Shuck the OYSTERS and play with the PIGS!
Story & photos by Dr. Michael Lim The Travelling GourmetTM
The inspiring Travelling Gourmet sails to Coffin Bay to savour…
MOUTHWATERING Oysters!
06:00 As dawn broke over the pristine waters of Boston Bay I jogged along the Parnkalla Trail after a gym workout. Then it was off to Coffin Bay on the Eyre Peninsula of South Australia.
The serene and tranquil bay framed by blue skies looked like the Cayman Islands. The sea was like a piece of turquoise glass. Sailing out in the early morning in the 'Coffin Bay Explorer' ship powered by two Honda 200 outboard motors was a most relaxing & enjoyable affair. A cool breeze ruffled my hair as we cast off. This is CoffinBay's only fully accredited Marine Tour operator. Along the way as we cruised smoothly  along, I saw a plump seal cavorting happily on starboard, a family of parading pelicans and an armada of orange and white jelly fish floating like 'double L' parachutes in the clear greenish blue water.
Casanova's favourite…OYSTERS!
Darian Gale is not only an affable oyster farmer but also a marine tour operator. I saw many sacks of oysters in black plastic netting on wooden rails. This is termed the 'rack & rail' method of oyster farming. One was hauled up and I savoured freshly shucked oysters full of the flavours of the sea and that unmistakable "umami" taste… I tried my hand at shucking the oysters and did very well. After all I have been trained by CIA (Culinary Institute of America). Actually, the Culinary Institute of America was founded in 1946. The Company (Central Intelligence Agency) was founded in 1947, but that is another story.
Ham it up with…Black Berkshire Pigs
After the awesome oysters, it was off to a pig farm…but these were no ordinary 'porkies'. They are the Black Berkshire pigs with their curly whirly tails so coveted by gourmets for their superlative taste profile and tenderness. Also known as "Kurobota" in Japan, I arrived at Minniribbie Farm to be greeted warmly by Warren & Linda. They have about 300 pigs including 4 boars and 65 sows on their 225 acre farm! The cute porkies were all snorting loudly & feeding happily on wheat, barley, lupins and fresh vegetables when I toured the farm. The earthy barnyard smell was appetising. I also saw 5 cute piglets suckling contentedly while their mother sow snoozed. Pork tasting was next with smoked bacon, pork chops and pork tenderloin all cooked by Linda's mum. They were super-yummy! All I can say is,"I am glad I'm not a vegetarian!"
At Winters Hill Emergency Observation Tower, I had a hawk's eye panoramic view of Port Lincoln shimmering in the bright sun and powder blue skies.
Heroes of the SEA!
At Boston Bay Winery, I attended a very special event. "The Chef's Tribute to the Heroes of Australia's Seafood Frontier" was a gourmet epicurean experience to be long remembered. The "Heroes" were of course the 'Fruits de mer"! However, before the feast, I met Graham Ford, who came here from Sydney in 1982 to catch wild abalone from the pristine waters of Australia's "Wild West" Coast. Graham explained to me in detail how the precious Abalones are caught. They cost up to A$ 200 a piece in AdelaideAirport's Australia Produce shop!
Enterprising Graham, inspired by the early French Explorers Nicholas Baudin & Citizen Freycinet who felt that BostonBay would be a good spot for vineyards, decided to establish Boston Bay Winery. This winery intrigued me as its unique meso-climate with the sea only 500m away, plus the unique moderating effect of the ocean's low pressure areas, creates conditions for very extraordinary wines. Before lunch was ready, I went to inspect the kitchen and see my friend, cheerful Head Chef Tony Ford (son of Boston Bay Winery's Founder), and his guest Chef from New Zealand, merry Martin Bosley busily doing the mise en place & pre-plating of the dishes.
Let the feast begin with…
A glass of O'Leary Walker "Hurtle" Sparkling  wine with flavours of stawberry with…
Canapés of Angasi & Pacific Oysters with Mignonette Dressing & Lemon Wedges, crunchy Spencer Gulf King Prawns with Kewpie Mayo & Watercress, Blow-Torched Southern Blue Fin Tuna rare in the middle, sprinkled with Ponzu, Chives & Garlic Chips.
I was happy to be placed at a table surrounded by nine beautiful ladies who were professionals, lawyers & doctors. They had flown all the way from Adelaide to Port Lincoln just for the event. The first course arrived. Ocean fresh Hiramasa Kingfish Tartare with tangy Lemon Peel Puree, fresh Avocado puree and King George Whiting. Creamy Coconut and Cucumber added textural contrast and extra layers of flavour.
Sharing Platters…
were placed on the table. It was very convivial to sample Super-yummy Black Lip Abalone Fritter caressed with Rock Lobster MayonnaiseAl-dente Soba Noodles in savoury Soy-Mirin Dressing topped with succulent Sashimi of Green Lip Abalone. Mineral, steely & flinty notes of the 2011 BostonBay "The Great White" Sauvignon Blanc enhanced the marine flavours of the abalone.
Three "Heroes" of the Seafood Frontier boldly appeared for the main course. Slow cooked Kingfish so beloved by the Japanese, tender yet firm, cheeky, chewy Calamari, plump & juicy Blue Mussels, on a futon of tasty Puree of Cauliflower. The sexy seafood "swam" in a pool of flavourful Saffron Broth! My tastebuds danced madly with delight! The "Heroes", especially the Kingfish, married delightfully with the crisp 2010 Boston Bay Riesling redolent with aromas of rosebuds and flavours of fresh cut lime.
Dessert a la francaise
Dessert followed 'tradition francaise' with Fromage (cheese) of powerful 'bleu' Roquefort Gabriel Coulet, Sainte Maure Poitou Affine, savoury English Cloth Cheddar with spritely-sweet home made Quince paste, gigantic Muscatel Raisins and über-crispy 1mm thin Lavoche wafers.  Bon appetit!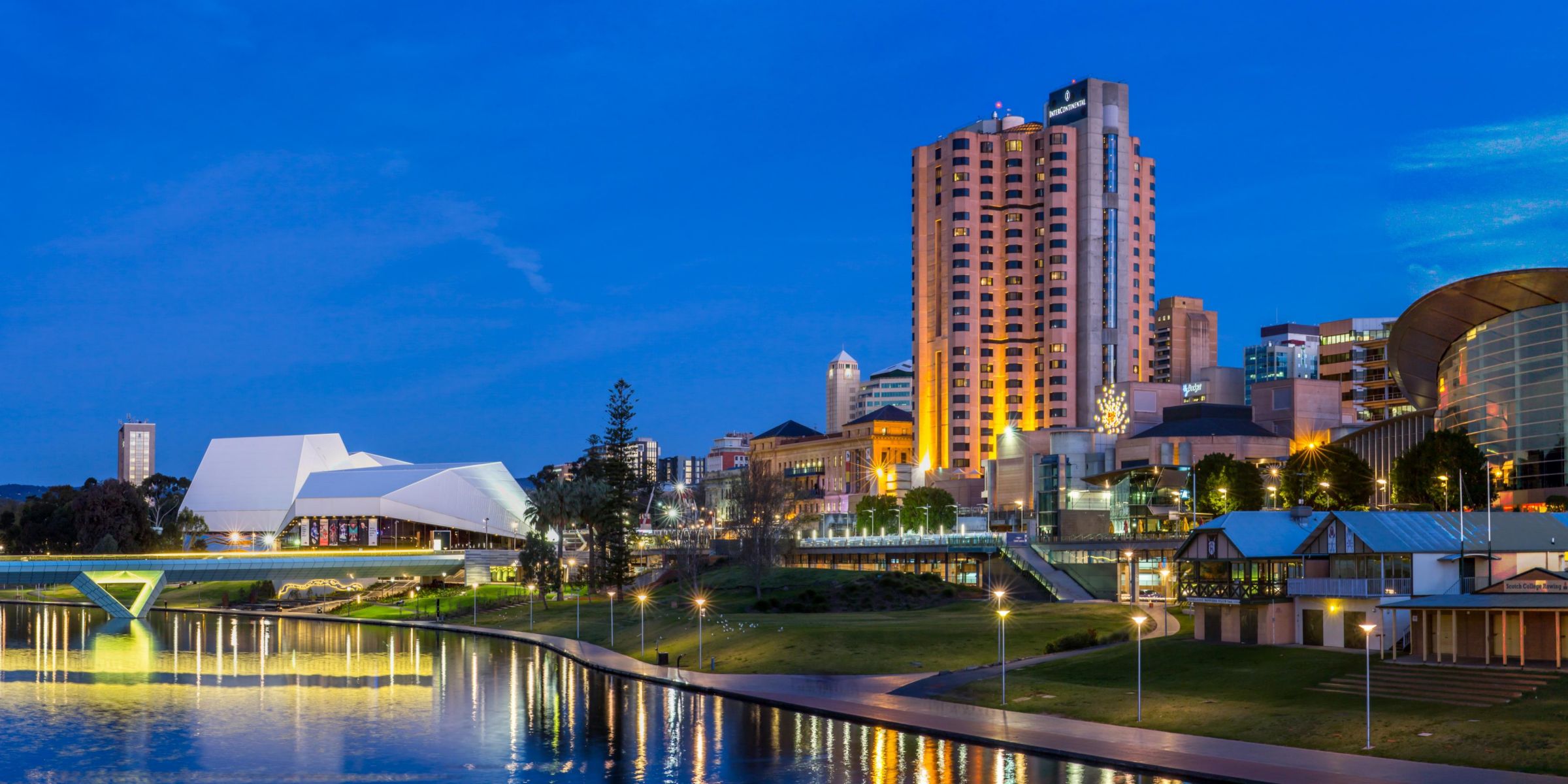 Intercontinental Hotel Adelaide…a luxury 5 Star hotel 
WINE Safari!
MY Wine Safari began with Wine Australia's "Best of Australian Chardonnay" Tasting held in Blakes of the Intercontinental Hotel. I tasted some very good Chardonnays including Shaw & Smith 2010 M3 Chardonnay, creamy and buttery Heemskerk Coal River Chardonnay 2008 from Tasmania, Kayena Vineyard Tamar Ridge 2009 Chardonnay full of zesty citrus and white peach, also from Tasmania aged in new and 3 year old French oak barriques, and many more. I was very happy to meet my friend again, blonde and beautiful Ali Lockwood, Regional Manager for Emerging Markets of the Australian government's Wine Australia. Tell you more soon…
Shaw & Smith 2010 M3 Chardonnay sounds like the .45 caliber submachine gun but was a robust & rich strong Chardonnay with some savoury notes and youthful primary fruit laced with citrus. Crafted from hand picked grapes and the vines had yields of 2.5kg per vine. Actually 1kg per vine would be better for the quality, but it is a nice wine nonetheless.
Buttery Heemskerk Coal River Valley Chardonnay 2008 had a good 'attack' and creamy, buttery mouth-feel due to the oak treatment in 75% new French oak. Very dry at only 1.0g/l of residual sugar 6.57g/l of acid. I liked the hints of guava & tropical fruit.
From Victoria's MorningtonPeninsula, the Ten Minutes by Tractor 2009 Wallis Vineyard Chardonnay made from hand picked grapes has pleasant white stone fruit flavours with hints of caramel and some mineral notes too! As ancient Romans always said,"In Vino Veritas!"
Bold & Beautiful Barossa!
Barossa Valley
Mineralogist Johannes Menge first explored the valley in the 1830s. South Australia's first Surveyor General, Colonel William Light, the illegitimate son of Captain Francis Light who discovered Penang, named the Valley after the Battle of Barosa in which he fought in 1811. Due to a mispelling, it became the Barossa Valley. Now it is one of the world's premier New World wine regions. It also has the OLDEST pre-phylloxera Shiraz vines in the world!
Tue 1 May 2012
MYSTICAL Seppeltsfield founded in 1851 was fascinating. It is only 73 minutes drive from Adelaide! Warren Duthy, the spritely Chairman of Seppeltsfield brought me around and showed off his gravity flow high-tech winery with open-top fermenters where the hand plunging 'methode traditionelle' is still used. His collection of "Port" now re-named "Fortified Wine" due to EU regulations from 1878 till now was most impressive! Warren told me, "We use the "Solero" system and we have the largest Palomino vineyards in the world. "What varietals have you got?" I asked. Warren explained, "We've Bush Vine Grenache, 80 to 100 year of Shiraz and some Cabernet Sauvignon."
MEETING Rick Burge, nephew of the famous Grant Burge, was a pleasure. We drove off on our Wine Safari and chipper Rick, who owns Burge Family Vineyards, said, "Now the trend is Tempranillo and Pinot Grigio but we have the oldest Shiraz vines in the world, here in Barossa…a lot of people don't know that, even some wine experts…"
Did you study Oenology?"
Humourous Rick's chuckled, "I studied Agricultural Science and …girls, at Adelaide University!"
MARCO Cirillo who is an Italian-Australian spoke to me in Italian at his vineyard, "We have some bush vines and some on trellis system and we have some molto vecchia (very old vine) Grenache. The soil is limestone so we have perfumed flavours." Marco added proudly,"I prune the whole vineyard myself!"
"What oak treatment do you use?" I enquired. Marco replied, "Oak is like salt in food…to much is no good. I use French & US oak." I tasted his "1850" Old Vine Grenache 2003 in the vineyard where a cool wind was blowing as the sun shine brightly. There was marked "grison de viande" and roasted pancetta (bacon) and lovely flavours of ripe fruit. At 16% abv it packs a punch! There were some grapes now raisins left over from the harvest selection. I cut some with my Swiss Army Knife and popped one in my mouth. Beautiful!
Next stop was the Hewitson vineyards. Rick got a bit lost on the muddy dirt tracks of the vineyard but we finally arrived. Dean Hewitson explained about his terroir and the Mourvedre grapes. Some of his vines are 160 years old! As I examined the soil and vinestock, Dean cracked open a bottle of Hewitson Old Garden 2009 Mourvedre…espresso coffee, dark, dark chocolate and Bing cherries and red fruit. Mmmm…A very expressive & complex wine indeed.
Andiamo and we drove to Langmeil Winery.
Jonathan Bitter the Winemaker's features reflected his 6th generation German ancestry. He welcomed me warmly as we conversed in German, "We overlook its humble origins but the Barossa was settled by peasant farmers from Germany. I am one of their descendents. Langmeil is the second of the German settlements in this area since 1842!"
"And Langmeil is German for "long mile"…" I interjected. Jonathan said, "Na, ja! Richtig!"
Jonathan added, "Barossa is like a time capsule for the grapevine."
Oenologists know that old vines are excellent fot the quality of their fruit and their resilience despite the low yields.
22:07
After lots and lots of wine tasting, I am back in the Novotel Barossa Valley Resort. It is a nice hotel but the rooms are miles away literally and you get lost along the way. My friend the GM has kindly instructed her staff to ferry me to and fro my room in the golf buggy which certainly saves time.
The dinner at Jacob's Creek was absolutely fabulous with skilful Chef Veronica Zahra cooking up a hurricane! OMG! Delicious and with the wines…a gourmet's dream come true!
Coffin Bay Oysters with Asian Herbs and Mirin Dressing plus aromatic spring onions with 2011 Jacob's Creek Reserve Barossa Riesling was to kill for. I NEVER say 'to die for' because when one is dead, one cannot eat or enjoy anything.
Kangaroo Island Lobster Medallion 12mm thick with zesty Sauce Gribiche matched with 2011 Jacob's Creek Steingarten Riesling blew my mind!
South Australia typifies why Australia is called the "Lucky Country"! Bon appetit et a votre sante!