Story and photos by Dr. Michael Lim The Travelling Gourmet TM
Copyright all rights reserved
The irrepressible and debonair Travelling Gourmet TM flies to…
MARVELLOUS Normandy to taste superb Cheeses, Caramels and Calvados…
One of the most delightful pleasures of travel is to taste and savour the foods, wines plus spirits of the region you visit. This is especially true of Normandy that is justly famous for its coveted CHEESES!
Captivating CAMEMBERT!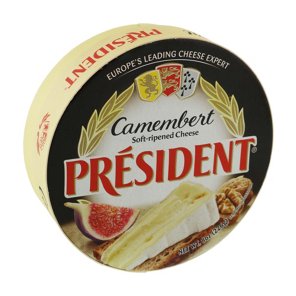 Camembert cheese is inextricably linked to the village of Camembert. This yummie cheese was developed in 1791 by the wife of a local farmer, Marie Harel. Now its fame has spread far and wide. I like President Camembert from Domfront due to its slinky texture and flavoursome nutty taste. Full-fat, fluffy, soft cow's milk cheese! The slightly crunchy and velvety textured rind is edible.The cheese comes in a round disc with a SAS- smooth as silk mouth-feel. As it ages the pleasant "umami" mushroom flavours become stronger!
Beautiful BRIE!
Brie de Normadie is a superb full-fat cheese made from a specific herd of cows that includes at least 50% of cows native to Normandy. The milk is 50% higher in butterfat content and FREE from hormones and antibiotics according to European law. Four types of milk are combined to make Normandie Brie! One is organic, one is raw milk, and two are AOC or appellation controlle d'origine, which designates products from a specific area. The Brie from President has 60% milk fat and an ueber-creamy seductive mouth-feel which the French call "Texture cremeuse". Nicknamed the "King of Cheese" in France, the smooth texture is like skating on hard ice while its buttery creamy flavours seduce! The Travelling Gourmet TM recommends respectfully that you relish it with some Sicilian Honey drizzled over and/or raspberry jam!
When to serve CHEESE a la francaise!
In France, cheese is served after the main course and before a sweet dessert, typically with wine left over from dinner, or special wine selected to match the cheeses! Try luscious Donnafugata Ben Rye Passito di Pantelleria 2013. It can also be served as a snack before appetizers.
Beurre d'Isigny
This wonderful PDO (Protected Designation of Origin) butter from Normandy is only made from the freshest cow's milk, taken between 24 to 48 hours of natural production.  The milk must come strictly from cows that are born, bred and fed in the Cotentin penninsula or Bessin area. Refined through the old-fashioned churning process, Isigny butter is acclaimed for its deep yellow tint, described as "bouton d'or" ('buttercup'). This is due to an abundance of carotenoids in the creamy gourmet butter that has 82% fatty solids content, plus high levels of oleic acid & mineral salts. These give it a distinct fragrant hazelnut flavor & superb spreadabilty. So very yummie on hot baguette! Palm oil margarine causes cancer so eat real BUTTER!
Apples, Cider, Calvados and Pommeau!
  Normandy is a coastal region along the English Channel east of Brittany famed for their apples & pears. The natives claim Viking ancestry because In 911, King Charles III of France ceded Normandy to Viking invaders led by Rollo. Rollo became baptized as Robert & pledged to defend the French king. Robert's successors became the Dukes of Normandy. Norman comes from "Norseman". Apples are big here! From the apples they make Cider, Apple Brandy or Calvados and Pommeau which is a combination of both. One cool sunny Summer afternoon, I went for a VIP tour of Maison Christian Drouin that has been making Calvados, Apple-Cider and Pommeau for 3 generations.
Thirty varieties of apples are harvested between September and November when fully ripe. Natural fermentation occurs from the pressed juice. Two distillations later with the 'heads and tails' discarded give a Calvados with 70% alcohol! Meticulous Aging in oak barrels that used to hold sherry and port give aromas and flavours of ripe apples, stewed apples and dried fruit. Ultimately you have exquisite Le Calvados Pays d'Auge XO with enticing flavours of baked sweet apples, almonds plus mixed spices, and Pommeau de Normandie! Excellent with Apple Tarte Tatin dessert & Vanilla ice cream.
Caramels de Isigny and Le Tripes! 
Super yummie bons bons are these dark brown caramels…so chewy and yet soft and yielding like the passionate kiss of a desirable woman that lingers…The pure butter makes it soooo good! Irresistable!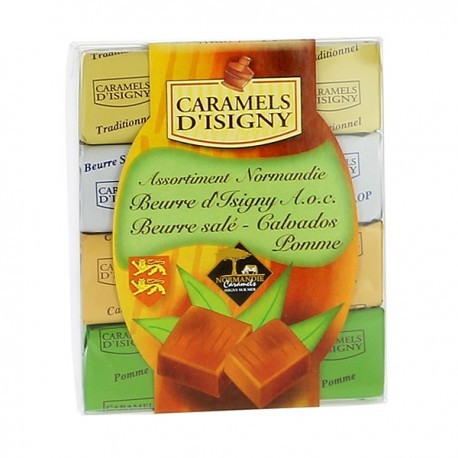 Le Tripes are not for the faint hearted but I love them!  Le tripes à la mode de Caen was first renowned as William the Conqueror's favourite dish. Concocted from Beef Offal (stomach & intestines) and laced with Calvados it is delicious but an acquired taste!
As The Travelling Gourmet TM I always say, "Keep calm and carry on eating! Wahahahah! 🙂