Story and photos by Dr. Michael Lim The Travelling Gourmet TM
Copyright all rights reserved
The tireless and debonair Travelling Gourmet TM tells the TRUE story of Bloody…
MARY! This is the name of one of the world's most famous cocktails, which taste at its best 38,000 feet above sea level in an aeroplane. I have had many Bloody Marys flying on SIA, the world's best airline and other airlines.
Hôtel Ritz's Petit Bar is where the Bloody Mary was created for Nobel Prize Laureate Ernest Hemingway. Originally the Petit Bar, it opened in 1921 and was discovered by Ernest Hemingway in 1925. The Nobel Prize–winning author would still recognize the place today. The main room remains tiny and warmly panelled with light oak. It reopened in 1994 as the Bar Hemingway. Petit in French means little or small.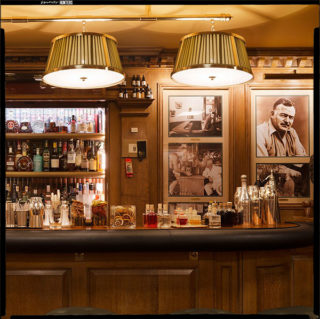 Bar Hemingway Ritz Paris
It was Hemingway's obsessive love of alcohol that led directly to the the creation of the Bloody Mary. On doctor's orders to reduce his drinking, Hemingway wanted a drink that his wife, Mary Walsh Hemingway, could not detect…The Petit Bar's bartender, Bernard Azimont, ingeniously created with Vodka and tomato juice concoction spiked with Tabasco and Pepper. Afficionados know that Vodka has no smell! Mary was none the wiser hinking Hemingway was drinking Tomato juice. The next day, Hemingway joyfully told Bernard, "That bloody Mary couldn't smell a thing!" Hence the name: Bloody Mary!
Hemingway loved the Ritz in Paris and famously said, 'If I die and go to heaven I'd like it to resemble the bars at the Ritz.' "Bulldog"Winston Churchill, President Theodore Roosevelt,F. Scott "Great Gatsby" Fitzgerald and immortal "Begin the Beguine" Cole Porter all came to drink in the Petit Bar. Hemingway was a regular for more than 30 years! When the US army liberated Paris from the Nazis in WW2, Hemingway as a War Correspondent was with them. On August 25, 1944, he went first to the Sylvia Beach's Shakespeare & Co. bookstore. Afterwhich Hemingway made a beeline for the Petit Bar. Hemingway then proceeded to  quaff 51 dry martinis!