Story and photos by Dr. Michael Lim The Travelling Gourmet TM
Copyright all rights reserved
The indomitable and inimitable Travelling Gourmet TM celebrates…
MEMORABLE Festa della Repubblica with a veritable feast from Waterfall Italian ristorante in the Shangri-La Singapore. Italy's National Day or Festa della Repubblica is on 2 June. Before the horrid china virus from Wuhan, HE The Italian Ambassador would kindly invite me to celebrate with him at a posh 5 star hotel. Such events are no more at present. Why? It is all because of the horrific chinavirus which is china's curse on the world.
Nevertheless, we are always resourceful and Waterfall ristorante has come up with a takeaway or delivery feast for you to celebrate at home! I decided to try this and it is really good at $138 nett. Waterfall is one of my favourite restaurants with mio buon amico, helpful Manager Andreano. The yummie Italian delights in the Festa della Repubblica Feast includes a big Pizza and 2 Pastas. The food is enough for 4 people. Only available on 31 May, 1 June and 2 June.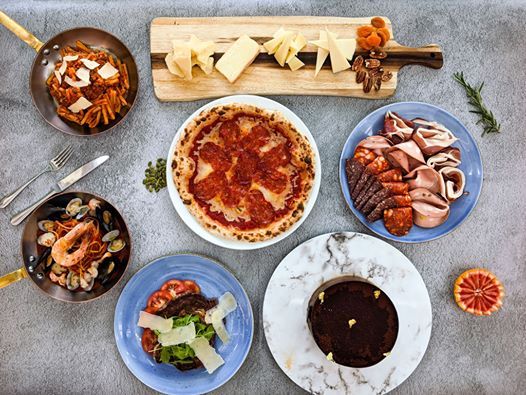 There is:
Piatto di Afettati comprising Spicy Salami, Salami, Proscuitto di Parma and Mortadella
Tagliere di Formaggi which is a Cheese Platter of Parmesan, Fontina, Tallegio and Provolone with Apricots and Prunes. I added my own Honey from Sicily which made for an amazing taste combination. I learned how Honey enhances the flavour of Cheeses on my extensive travels in Italy, especially in Sardinia.
Linguine alla Scoglio of Seafood in a rich and sexy Tomato Sauce with Parsley. There are Mussels, Clams, big Prawns and more!
Linguine alla Scoglio when it is served in the ristorante
Caserecci al Ragu d'Agnello with flavoursome Lamb and Mushrooms
Pizza Salame with Mozzarella and Tallegio Cheeses
Tagliata di Manzo which is Grilled Ribeye Steak to "medium" doneness with Rucola Tomatoes, Arugula or Rocket Salad with Balsamico Dressing and Baby Potatoes
The Icing on the cake was a whole Tiramisu Cake with Coffee, Savoiardi and Mascarpone Cheese garnished with 24 karat Gold Leaf . Yummie!
Il Turista Buongustaio/The Travelling Gourmet TM says: Keep calm and carry on eating!
Mantieni la calma e continua a mangiare!
Buon appetito e Buona Festa della Repubblica!
Waterfall Italian Ristorante
22 Orange Grove Rd, Level One, Garden Wing, Singapore 258350
Tel: 62134398
Lungarotti wines go well with Italian cuisine!