Story and photos by Dr. Michael Lim The Travelling Gourmet TM
Copyright all rights reserved
The intrepid and indomitable Travelling Gourmet TM tells how the…
MONSTROUS china virus has  hit Champagne badly. Champagne is losing its fizz! Why? This is because Weddings, dining out, Birthday Celebrations, Anniversaries, safe-distancing, parties and exhibitions and wine fairs have been cancelled due to the lockdowns for months!
All these joyful social occasions drive the sales of effervescent Champagne, the sparkling French luxury wine. Known as the KIng of wines and the wine of Kings, bubbly Champagne has been de rigeur for any celebration for centuries.
In France's eastern Champagne region, the headquarters of the global industry, producers gloomily report that they've lost an estimated €1.7 billion (US$2 billion) in sales for 2020! Turnover has fallen by a third. This terrible loss is a loss worse than the Great Depression. China is responsible for the china virus and for wilfully spreading the viros around the world. China is reponsible for this and also for damaging the airline industry and the economies of many countries worldwide!
About 100 million bottles are expected to be languishing unsold in the cellars by the end of the year. Tourism to visit the Champane region and the famous Maisons de Champagne like Krug, Bollinger, DomPerignon and more have also been badly hit.
Thibaut Le Mailloux of the Champagne Committee, known by its French acronym CIVC, that represents some 16,000 winemakers, said, "We are experiencing a crisis that we evaluate to be even worse than the Great Depression" of 1929." C'est un horreur!
Exactly like oil-producing countries, the CIVC regulates the size of the harvest each year to avoid the kind of excess production that would cause Champagne prices to plummet. To manage the losses, the CIVC is launching unprecedented damage-limitation measures.
The Champenois are in disarray as efforts to reach agreement on the level of yield for the 2020 harvest failed at a recent meeting in July of the Comité Interprofessionnel du Vin de Champagne (CIVC) in Epernay.
At a meeting scheduled for Aug. 18, 2020, the CIVC is expected to impose a cap so tight that record quantities of grapes will be destroyed or sold to distilleries at discounted prices to produce Marc de Champagne which is like Grappa.
Mon Dieu! Anselme Selosse, of Jacques Selosse Champagnes, called it "an insult to nature" that Champagne's famous grapes might even be destined to produce alcohol for hand sanitizer, as is happening in other wine-producing regions such as Alsace after demand spiked during the pandemic.
"We are to destroy [the grapes] and we pay for them to be destroyed," Anselme Selosse explained, referring to the industry as a whole. "It's nothing but a catastrophe."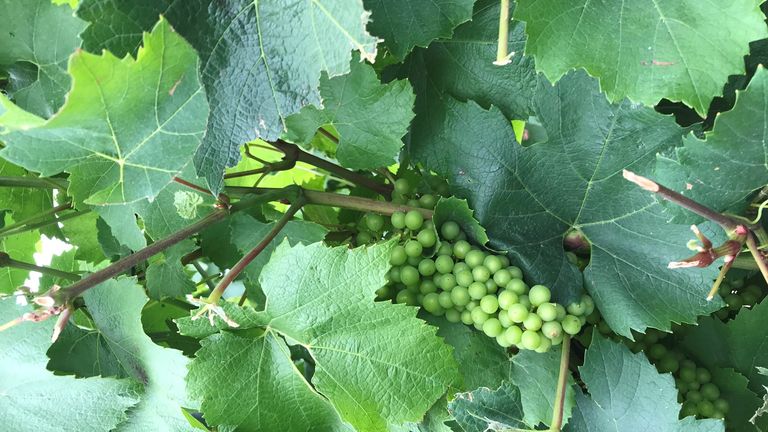 "Champagne has never lived through anything like this before, even in the world wars," Selosse added. "We have never experienced … a sudden one-third drop in sales. Over one hundred million bottles unsold."
Major producers such as Vranken-Pommery predict that the crisis could last for years.
"It should not be forgotten that (Champagne) has lived through every single war," said Paul-Francois Vranken, founder of Vranken-Pommery Monopole. "But with the other crises, there was a way out. For now, there is no way out — unless we find a vaccine."
"In victory, you deserve Champagne; in defeat, you need it." — said midget Napoleon Bonaparte who caused the Napoleonic Wars in Europe from 1803 to 1815.
The Travelling Gourmet TM says: Keep calm and drink Champagne