Story and photos by Dr. Michael Lim The Travelling Gourmet TM
Copyright all rights reserved
On a gastronomic safari in Europe, the tenacious and audacious Travelling Gourmet TM embarks on a search for the classic bun of Bristol, the…
MARVELLOUS Colston Bun!

BRISTOL, Gloucestershire
Latitude 51.454513      Longitude -2.58791
Yeast-raised sweet bread plump and round with sweet spices, lemon and a little dried fruit and candied peel. Made in a large size with (typically) 8 division markings and a small, individual, form known as a starver.
Named after Edward Colston, 2nd November 1636 to 11th October 1721, a Bristol merchant and Tory Member of Pariament who endowed a school and almshouses, and who is commemorated each November at a service in Bristol Cathedral where schoolchildren are issued with the buns…
Alas, Colston is now in disrepute in this crazy time of asinine politically correctness…for being a successful slave trader. People forget that in his day slave trading was perfectly respectable like buying and selling motor cars today! However, Colston was also a philanthropist who helped a lot of people, and gave great sums of money to the city of Bristol. How about Jardine Matheson of Hong Kong selling Opium to China in the days of "gunboat diplomacy" then??? Do you want to close down Jardine Matheson??? They were the original drug lords lke the Medillin Cartel of Colombia.
Truth be told, Edward Colston is like a "cult figure" in Bristol. There is Colston Street and Colston Tower is on Colston Avenue. There is the Colston bun, which you are meant to eat on Colston's Day. There is Colston's Girls' school where statues abound everywhere and three ceremonies are held every year to celebrate his life."  There will be one less Bristol institution bearing his name in 3 years time. The concert venue Colston Hall will reopen in 2020, after its refurbishment, with a new name. The asinine politically correct Libtards fail to take into account that Colston Hall was built almost 150 years after Colton's death, and was actually named after its address, which is Colston Street. I for one, to be brutally frank am not into political correctness aka hypocrisy. To me it is a load of Balderdash! I digress…so..
Where is the Bun?
 *****
20g Dried Papaya
 I have emailed the Head of the Merchant Venturers, one Callum McAlpine to make further enquiries (just like a Scotland Yard Chief Inspector) but to date NO reply has been forthcoming…even after 3 enquiries to date (Friday 30 June 2017) NO REPLY! Tja, Tja, Tsk, Tsk…not very nice…discourteous to say the least.
Mon to Fri: 8am till 5pm, Sat: 9am till 5pm, Sun: 10am till 4pm
OPEN 7 days a week! Maybe the owner Mark Rind who has been running Cafe Revival since 2012 has Chinese blood? 🙂 Mark, please make the Colston Bun! It will be a best seller! You can call it Bristol Bun to be politically correct…wahahahah! 🙂
I also went up in a hot air balloon up to 2000 feet ASL in Bristol…but that is another story…
Das Leben es ist unbestimmt, isst erst den Nachtisch!
Bristol is a port city hence the intrepid Royal Marines Commandos playing "A life on the ocean wave". Per Mare Per Terram
HERE IS A VERY NICE LETTER FROM BRISTOL…
from the MAYOR of Bristol, the Right Honourable Marvin Rees.
On 6 Jan 2019, at 11:47 AM, Coulston, Charles H (Bluegrass)

I was most delighted and inspired to receive this from wahrscheinlich (probably) a relative of the famous Colston (or infamous if you are a wimpo libtard crackpot)

As The Travelling Gourmet Tm, Travel, Food and Wine Writer/Editor, Vlogger, Blogger, International Wine Judge and Educator extraordinaire I say (inoffensively and respectfully)
To hell with political correctness!
Original quote by Dr. Michael Lim The Travelling Gourmet TM:
Those who believe in absurdities,
commit vile atrocities.

Vis a vis midget malevolent hitler and nitwit napoleon bonaparte who was actually Italian from the island of Corsica…
Thank you for the background and recipe for the Colston bun. My friend and house guest Pierre has made the buns to send home with our guests who are coming to a 12th Night dinner tomorrow. 
He and I were in Bristol in the fall of 2017. My attention was drawn to all the instances of the name everywhere, the favorite was Colston Public Toilets. We saw the Girls School, Tower, and Music Hall while we were there. My family name is Coulston, and I have found many variations of the spelling in various places and records. I have no idea if there is a connection to Edward or not.
Thanks again for the information. We're putting it to good use.
Charles H Coulston 
Lexington, KY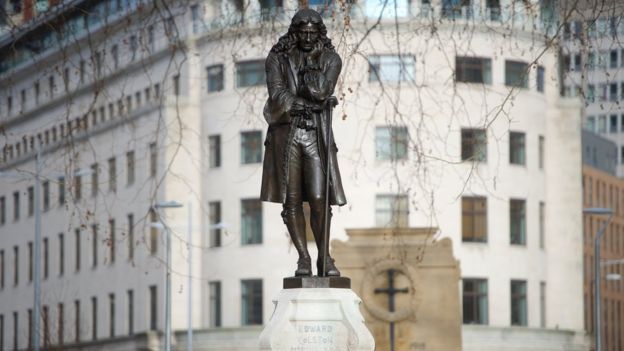 Sunday 7 June, 2020. The statue of slave trader Edward Colston was toppled from its plinth and pushed into Bristol Harbour docks by frenzied protesters, has long divided opinion in Bristol. The 5.5-metre (18ft) bronze statue had stood on Colston Avenue since 1895 as a memorial to his philanthropic works. He developed Colston Avenue after divesting himself of links to a company involved in the selling of tens of thousands of slaves. His good works in the city included money to build and sustain schools, almshouses and churches.